You may already know that in addition to being a big comic book fan, I own a fair amount of original art from comics. And if you know me really well, you may know that I am a huge fan of Grendel, Matt Wagner's signature series that my friend Dave Gross turned me onto in college. I already own some Grendel art that I adore; a Pander Brothers piece as well as a solo Arnold Pander piece, Jay Geldhof's painting for Grendel Cycle, a J.K. Snyder III pin-up… well, now I have two more pieces that are both heading my way even as I type this, both in the hands of various shipping companies.
The first is a page from Grendel Tales: Devils and Deaths by the late, great Edvin Biukovic. Biukovic was an artist who had a short career in comics; he made his big North American debut through Grendel Tales and quickly became in-demand for his clean art style. Sadly his career ended at the age of 30 from a brain tumor, just as his career was getting huge. Earlier this month, his family released a limited number of his original art pages for sale, something that almost never happens. I ended up purchasing this beauty; I was a huge fan of Biukovic the second I bought Grendel Tales: Devils and Deaths #1, and he was a talent that was silenced far too soon.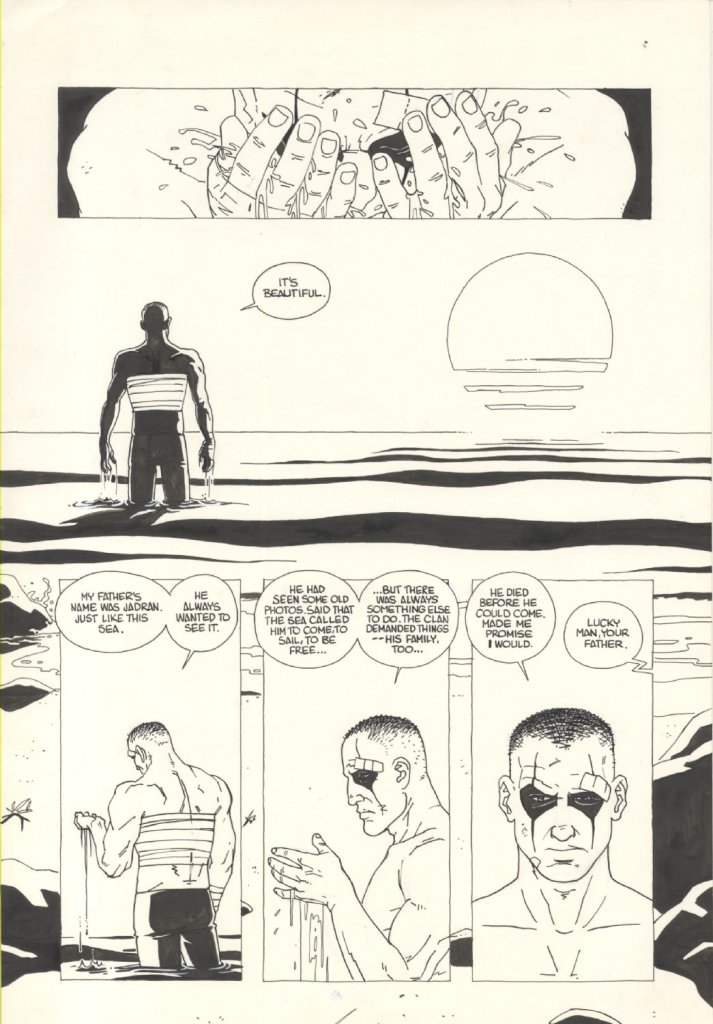 The second is a page from this year's Grendel vs. The Shadow, drawn by Matt Wagner himself. I never thought I'd own a Wagner Grendel page, and having the opportunity made my head explode. And if that's not enough… just look at the detail and the graceful shading here. The art dealer whom I talked to about it said that it looks even more gorgeous in person. I cannot wait.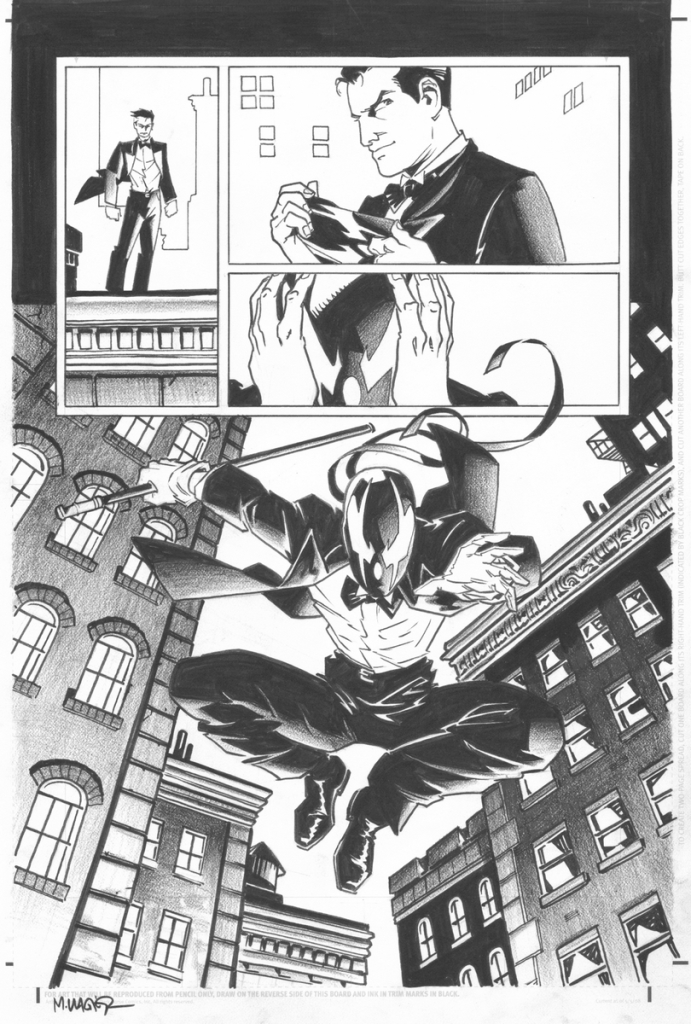 Once I get them framed sometime in the new year, I'll probably swap out some pieces either at home or in my office (or both?) with these. I love the art I have hanging right now. But I really, really love these. And it'll be nice to see something new on the walls.
Originally published at gregmce.com. Please leave any comments there.
Skyline Drive, Shenandoah National Park, VA
October 26, 2014
Originally published at gregmce.com. Please leave any comments there.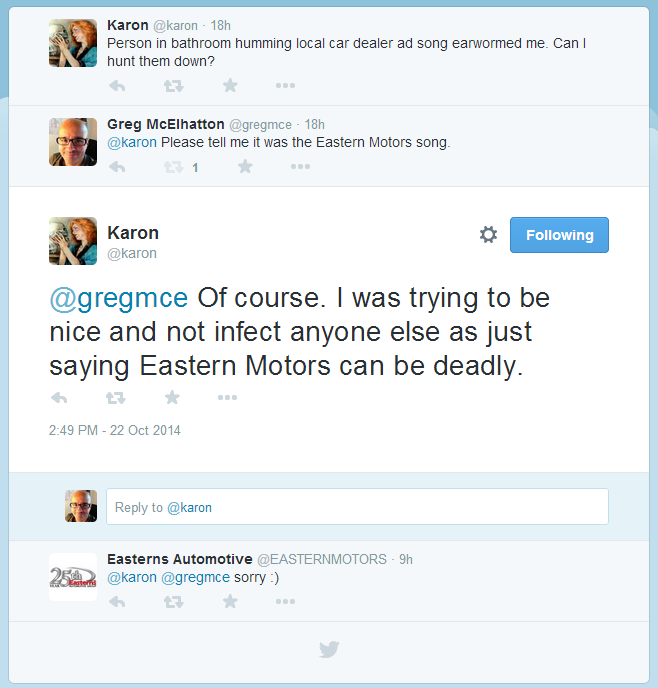 I cannot stop laughing. I suspect you need to be from the DC area to truly appreciate this exchange. Although you can get an idea of the horror, if you really want, via this link. But don't say you weren't warned…
Originally published at gregmce.com. Please leave any comments there.
I love to travel. I own guide books to places I'll probably never go; I love reading travel diaries. My biggest complaint with my job is that I don't get a crazy amount of vacation time with which to travel all over the world. So it's with that in mind that I must admit that over the past three weeks, I've had too much travel.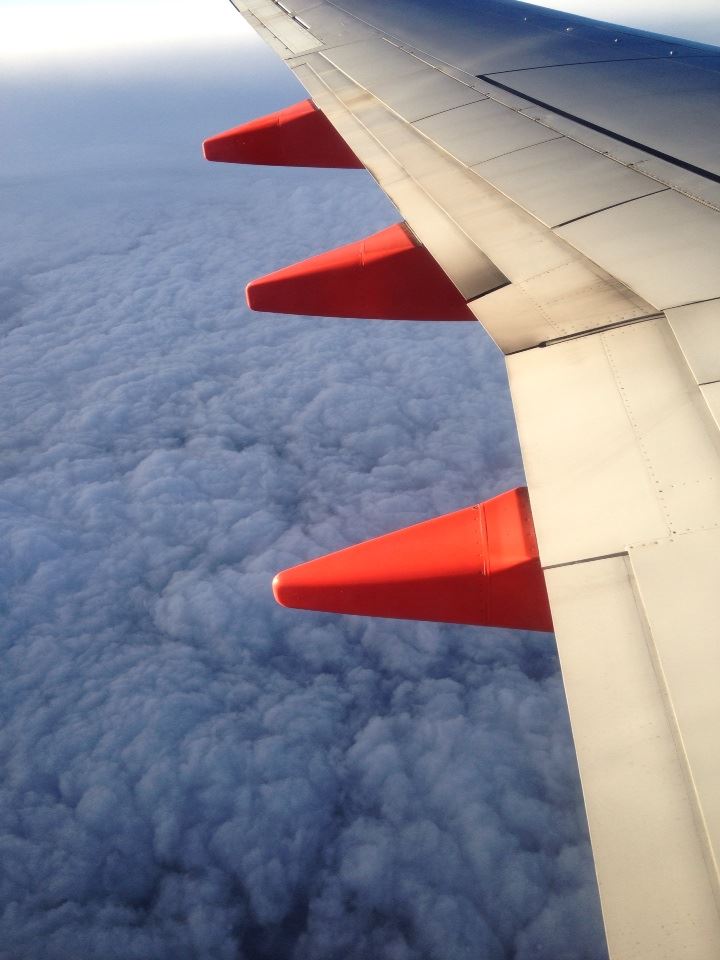 I ended up with three trips; one for work, two for pleasure. And let me quickly state that the two for pleasure were both great. I had a fantastic time on both of them and I'm so glad I did them. But I am run ragged, now. I miss my routines, even if it's just sleeping in my own bed and sitting down at my own desk.
It probably doesn't help that in between trips #2 and 3, I also had a three-day work meeting which had me slightly wiped out by the end. Or that this semester of graduate school is proving to be the most difficult/intense one to date. (Fortunately the classes are also interesting.) Or that right before leaving for the third trip, I came down with a cold that I'm still trying to shake. None the less… it's nice to be home. Very, very nice to be home. Fortunately that should last for the rest of the month and then some.
No doubt, by this time next month, I'll be dreaming of travelling once more.
Originally published at gregmce.com. Please leave any comments there.
It's a little hard for me to believe that I'm already halfway through my graduate school program. When classes began a year ago, graduation seemed very far away, although that could have been in part a level of nervousness. After all, it had been 18 years since I completed my undergraduate degree. And while I design online courses for a living, the idea of shifting to a fully online format for school was also a bit daunting. So, with that in mind… what have I learned so far?
Graduate school was a good idea. Of the six classes I've taken, I'd say that four of them were well-worth the money. I've learned a lot about cataloging and researching, adding to the skill sets that I already possessed. I also increased my knowledge of Access databases and SQL queries immensely, neither of which I knew very much about. Strictly from a "gaining knowledge" standpoint, those four classes have been automatic successes. As for the two other classes… well, honestly, if I was someone fresh out of my undergraduate degree and without any real-world/job-market experience, these would have probably been a lot more beneficial. So there's certainly no anger or disappointment when it comes to those two remaining courses; they just weren't helpful to me because they covered ground that I had already tackled or experienced on my own.
Something's got to give. I knew, going into this, that I'd lose some free time. But somehow, it was still a bit of a surprise on just how much free time I ended up giving up. Usually at least one day on the weekend is devoured by schoolwork, for example. I've been reading a lot less, unfortunately, as well as finding it much more difficult to keep up with the few television shows I watch. I also had to scratch my plans to run the Nations Triathlon in DC next month; I have not made it to the pool at all this year to swim laps. (A full marathon is, needless to say, right out.)
Organization is key. I know, this is a library and information science degree, I should already know that. But in this case, I mean more along the lines of tracking my assignments. I create a master calendar with all of my assignments for the semester in the first week, highlight graded assignments in red so I don't miss them, and then delete items as they're finished. Additionally, I put the current week's assignments in an app on my phone that I check off as they're finished. It might sound like overkill (since I do have a syllabus for each class) but it makes a big difference in getting everything done.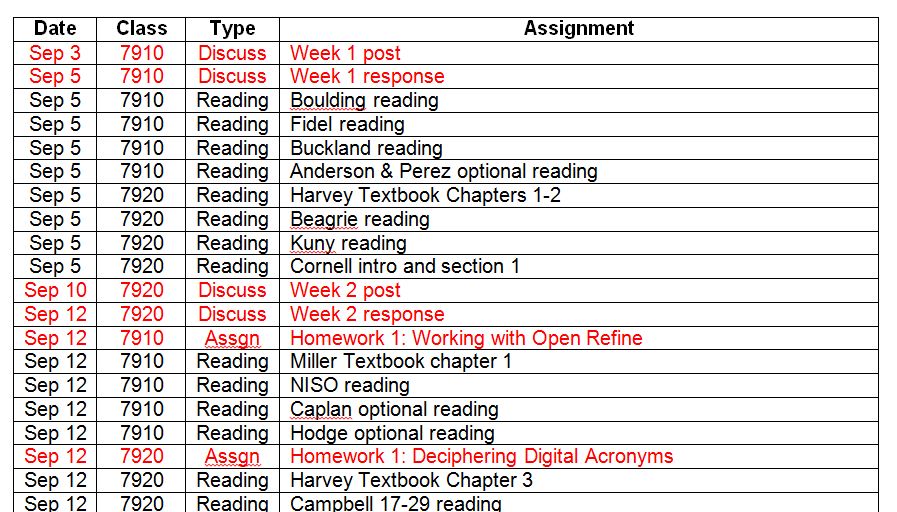 I really do work harder now that I'm older. I will be the first to admit that I did not focus as much as I should have in my first two years of my undergraduate degree. (Spring 1991 and Fall 1992 in particular.) I buckled down after that and improved my grades a great deal, putting a lot more work into my classes. Well, that was apparently child's play compared to the amount of effort I put into classes now. Sure, it's graduate school so it should require more effort, but being in my 40s I find myself caring that much more about my assignments and getting them not just completed, but excellent. And honestly, at times I'm a little perplexed that not all of my fellow students are in the same boat. (Then I remember being in my 20s and I'm not that surprised. And there are some people who are almost 20 years younger than me who are even more driven and determined than I am, for that matter.)
Vacation is the best thing ever. I hadn't realized just how important the three week break in December was, until I didn't have any sort of break between my spring and summer classes. (Or as WSU refers to them, my Winter and my Spring/Summer classes.) There was definitely a little bit of burnout as a result; having a lot of the month of August off has helped a great deal in that regard now, but it was certainly a difficult May and June thanks to not having any real break.
And so, with all that in mind, classes officially kick off today. Six down, six to go. To use a running metaphor, this is the point in the marathon where you can start counting down the miles, because it's no longer terrifying to do so. I can't see the finish line yet, and won't for a while, but at least I know it's out there.
Originally published at gregmce.com. Please leave any comments there.
Dan Kois's article "Tour de Gramps" — in which the author tries to keep up with his 67-year old father on a bike trip up a mountain in France — has in many ways every element I ask for in order to grab my attention. So if you need a bit of a lure to read this article (you should, you should), a quick rundown.
Kois doesn't present himself as a hero who can just blast through this experience. Exercise when you push yourself is a struggle; if it's easy, you're not giving it that extra oomph. His descriptions of inwardly dying as he goes up Mont Ventoux are funny, but they're also remarkably accurate. The deal-making, the game-playing, the obsessive counting of the distance to get to a pre-determined break.
He eats a lot of pain au chocolat while biking up this mountain. Honestly, this really just made me hungry more than anything else because breakfast has worn off and it's too early for lunch. But mmmmm, chocolate bread.
He gets Liz Phair's Exile in Guyville album stuck in his head as a distraction. I feel like anyone who's done an endurance sport understands this phenomenon all too well. ("Oh no, you're not going to believe what's stuck in my head now," is a familiar chorus with my running buddies.) But it's not just any music, it's Liz Phair's first (and unfortunately, best) album. It doesn't matter that it's now in my head too, I cheered.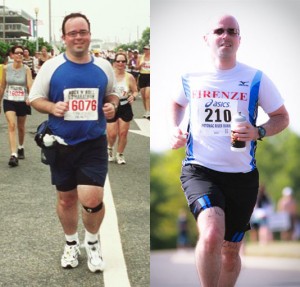 Best of all, though? It's a reminder that it's never too late to start exercising, never too late to make a big change. I was 27 when I gave distance running a whirl, and I remember even then a lot of people (including a certain family member) telling me that I shouldn't even try it. I was fat, and I hadn't done any sort of real exercise in years. 14 years later, I'm still going. Kois's father was 50 (and also out of shape/overweight) when he took up cycling. At the age of 67, he's powering up a mountain on his bike and in great shape. That's a role model to look up to.
Anyway, it's a fun article, and something that deserves more than a one-sentence "check it out" on Facebook. So. Check it out.
(Also, I need some inspiration to get back into the pool. I've added the cycling back into the schedule but it's always squeezing in the third part of a triathlon that becomes a struggle. Sometimes it's cycling, sometimes it's swimming. Get it moving, Greg.)
Originally published at gregmce.com. Please leave any comments there.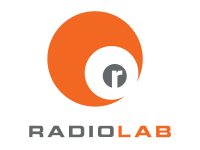 One of the podcasts I listen to and love is Radiolab, a public radio show produced by WNYC. It was pitched to me as, "If This American Life was primarily interested on science, but without losing the accessibility to a wide audience." (The official description on the website is, "Radiolab is a show about curiosity. Where sound illuminates ideas, and the boundaries blur between science, philosophy, and human experience.") At any rate, I've listened to it for a few years now, and I love how the podcast has both full hour-long episodes as well as Radiolab Shorts, which run usually in the 15-to-30-minute range.
One of my all-time favorite episodes from back in 2009 was about parasites, and for the longest time I would pitch it to people as, "Disturbing but immensely fascinating." (The connection between the hookworm parasite and people's allergies still makes my head explode every time I think about it.) And you can find that episode here, if you're interested. But while catching up on episodes, I just listened to one from a month or so ago and it stuck with me. Here's the official tag:
What's Left When You're Right?
More often than not, a fight is just a fight… Someone wins, someone loses. But this hour, we have a series of face-offs that shine a light on the human condition, the benefit of coming at something from a different side, and the price of being right.
It's a fun episode, with three different stories that each approach confrontation in a different way. I liked them all, but I think my favorite was about two people (Lulu and Soo) who were on a cross-country bike trip and had two confrontations with people (a businessman and then a potentially mentally ill person) that reminded me a lot of the different ways that I and other people each approach a confrontation, and what the "right" way is. It closes with the following:
So the story leaves you with some questions, like if you agree that people are messed up… like, of course they are, we all are… then what's the best way to heal people? I mean, do you decide as Lulu does, or did, that you should approach the world with kindness and happiness no matter how the world greets you? Or, is that kind of giving up? Like a happy hopelessness? So then, do you put your foot down as Soo did? And say, "No, you are messed up, don't be messed up?" Is that hope? Or just being mean?
Maybe you need to hear the full story to appreciate it. Or maybe you need to have had the discussions I've had with others about how to deal with confrontation. But to me, it clicked, in a way that made me stop and think without ever saying, "This is the right answer."
Anyway, I love Radiolab. You should too. Give it a whirl.
Originally published at gregmce.com. Please leave any comments there.
You know that feeling when there's something hovering over your head ready to drop, something really bad? And you don't want it to actually drop and hit you—you keep hoping that somehow things will get fixed and it will no longer be a worry—but at the same time, waiting for it to drop feels almost as bad as the actual impact?
It's like that.
(I'm hoping history doesn't repeat itself. I fear it's about to.)
Originally published at gregmce.com. Please leave any comments there.
Another year of keeping track of films and books read… I suspect that I missed a few graphic novels when you count the collected editions (since I read a lot of them for review purposes in serialized formats), ah well. Definitely a big uptick on movies for 2013.
Movies:
Django Unchained
Zero Dark Thirty
The Hobbit: An Unexpected Journey
The Oscar Nominated Short Films 2013: Live Action
The Oscar Nominated Short Films 2013: Animated
Silver Linings Playbook
Amour
Side Effects
Party Girl
The Company You Keep
The Great Gatsby
In the House (Dans la Maison)
Stories We Tell
Star Trek Into Darkness
Iron Man 3
Mud
Frances Ha
Behind the Candelabra
The Painting (Le Tableau)
Rent a Family Inc.
AFI Docs Shorts Program Two: Life and Death
Approved for Adoption (Couleur de Peau: Miel)
The Bling Ring
Much Ado About Nothing
The Way, Way Back
The Heat
I'm So Excited (Los amantes pasajeros)
Blue Jasmine
The Wolverine
The Spectacular Now
Word Wars
Gravity
12 Years a Slave
The Mostly Unfabulous Social Life of Ethan Green
Frozen
The Deflowering of Eva Van End (De Ontmaagding van Eva van End)
Our Heroes Died Tonight (Nos héros sont morts ce soir)
Tiny Furniture
Dallas Buyers Club
American Hustle
Her
Books:
Cloud Atlas by David Mitchell
Gone Girl by Gillian Flynn
Blue Heaven by Joe Keenan
Black Blade Blues by J.A. Pitts
Among Others by Jo Walton
Heads in Beds: A Reckless Memoir of Hotels, Hustles, and So-Called Hospitality by Jacob Tomsky
The Years of Rice and Salt by Kim Stanley Robinson
The Gastronomical Me by M.F.K. Fisher
The Highest Frontier by Joan Slonczewski
Cooking for Mr. Latte: A Food Lover's Courtship by Amanda Hesser
Redshirts by John Scalzi
Fair Play by Tove Jansson
The Ocean at the End of the Lane by Neil Gaiman
The Unreal and the Real: Selected Stories Volume One: Where on Earth by Ursula K. Le Guin
The Summer Prince by Alaya Dawn Johnson
The Virtual Reference Handbook: Interview and Information Delivery Techniques for the Chat and E-mail Environments by Diane K. Kovacs
Men and Cartoons: Stories by Jonathan Lethem
Orange Is the New Black: My Year in a Women's Prison by Piper Kerman
The Two Hotel Francforts by David Leavitt
The Portable MLIS: Insights from the Experts edited by Ken Haycock and Brooke E. Sheldon
Reference and Information Services: An Introduction by Richard E. Bopp and Linda C. Smith
Doctor Who: A Big Hand For The Doctor by Eoin Colfer
Doctor Who: The Nameless City by Michael Scott
Doctor Who: The Spear of Destiny by Marcus Sedgwick
Doctor Who: The Roots of Evil by Philip Reeve
Doctor Who: Tip of the Tongue by Patrick Ness
Doctor Who: Something Borrowed by Richelle Mead
Doctor Who: The Ripple Effect by Malorie Blackman
Doctor Who: Spore by Alex Scarrow
Doctor Who: The Beast of Babylon by Charlie Higson
Doctor Who: The Mystery of the Haunted Cottage by Derek Landy
Doctor Who: Nothing O'Clock by Neil Gaiman
Fiction Magazines, Chapbooks, and Zines:
Lightspeed Magazine March 2012
Granta 114: Aliens
Lightspeed Magazine April 2012
Lightspeed Magazine May 2012
Lightspeed Magazine June 2012
Kinfolk Vol. 3
Lightspeed Magazine July 2012
Lucky Peach Vol. 7
Lucky Peach Vol. 8
Kinfolk Vol. 9
Originally published at gregmce.com. Please leave any comments there.
Well, snow has come to the Washington DC region again, and of course <select ... ><option ... > </option><option ... >it's about time</option><option ... >I've been dreading it</option></select>. Not that you should be too surprised. The chill in the air <select ... ><option ... > </option><option ... >gets my spirits bright</option><option ... >fills me with dread</option><option ... >has me burrowed under the blankets</option></select>, and it's always a great excuse for <select ... ><option ... > </option><option ... >hot cider</option><option ... >hot coffee</option><option ... >hot tea</option><option ... >setting myself on fire</option></select>.
Right now the snow <select ... ><option ... > </option><option ... >is coming down steadily</option><option ... >really looks more like a light sprinkling of dandruff</option><option ... >is a disgusting mess of sleet and rain</option></select>, and I couldn't be more <select ... ><option ... > </option><option ... >delighted</option><option ... >disgusted</option><option ... >disturbed</option><option ... >worried</option></select>. Who doesn't <select ... ><option ... > </option><option ... >love</option><option ... >hate</option></select> snow? If all goes well <select ... ><option ... > </option><option ... >they'll cancel work tomorrow</option><option ... >they'll cancel work tomorrow</option><option ... >they'll cancel work tomorrow</option></select> and maybe <select ... ><option ... > </option><option ... >for the rest of the week</option><option ... >for the rest of eternity</option></select>. They're predicting <select ... ><option ... > </option><option ... >a light dusting</option><option ... >1-2 inches</option><option ... >3-6 inches</option><option ... >snowmageddon</option><option ... >icy roads</option></select>, after all.
In the meantime I'm just <select ... ><option ... > </option><option ... >going to shovel my car out</option><option ... >watching old movies on TCM</option><option ... >complaining a lot on Facebook</option><option ... >squealing a lot on Facebook</option><option ... >writing vaguely amusing-to-me Tweets</option></select>. If you don't like snow, <select ... ><option ... > </option><option ... >I'm right there with you</option><option ... >you are dead to me</option></select>. Oh, and now I'm wishing I'd bought some <select ... ><option ... > </option><option ... >milk</option><option ... >eggs</option><option ... >bread</option><option ... >toilet paper</option><option ... >whisky</option></select>. Oops. Oh well.
Originally published at gregmce.com. Please leave any comments there.